Productivity.
When I first began in my current position I was always trying to think through the ways I could improve productivity and save time by laying out my task in a way that flowed naturally.
I found out quickly how easy it was for my days to get hi-jacked, I would come in on Monday ready to stick with my plan and really make my days count. It seemed like only a blink and I would be coming in on Friday morning feeling like all week I've just been reacting and trying to keep up, giving Friday my best but feeling like I had already lost this round.
Someone mentioned a program called "Todoist" which I tried but it was unnatural to keep an online list and I would get lost in the multitude of things I had entered so this didn't last very long. I started writing my to-do list down on paper every morning and that really helped in keeping me on track and not forgetting where I was, (a co-worker actually adopted this method as well for a time and said it really improved her productivity) but it was time consuming to write down recurring tasks every day and I started feeling like I was wasting valuable time by doing it this way.
I maintained the paper to-do list method for about a year when I decided to give the todoist app another try. It is easy to see how it can improve productivity if you add the handy extension, you'll have your list readily available to the side of your screen. I begin by entering the items on my todoist app in the same way I was writing them down. Even though I utilized the recurring task feature I would still have to scroll up and down to make sure I was spending my time on the most important task first. This was better than paper but was not flowing easily.
So my big break through came when it occurred to me I could use the recurring task, with a time set for each task, and arrange according to date to order the task as I needed to complete them throughout the day. The first day I set this up and started using it to get me back on track I believe it doubled my productivity, I noticed that I was; 1. Completing everything on my list ahead of time, and 2. Not getting lost in a big long list of task like I normally do.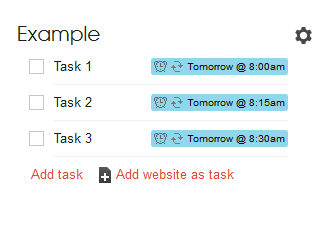 Productivity Doubled
This really helped to eliminate what is usually my biggest challenge, which is the feeling of being overwhelmed by a long list of overdue task and forgetting what I was doing when coming back to my desk after interruptions.